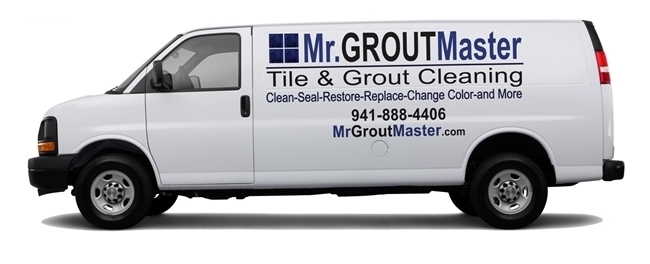 With our up-to-date equipment and the latest powerful steam cleaning truck mounted machine; Mr. Grout Master, a tile and grout cleaning company, comes to you to professionally clean, seal, and restore your tile and grout leaving it like new again! Proudly serving Sarasota and surrounding cities such as Bradenton, Lakewood Ranch, Palmer Ranch, Siesta key, North port, Venice, Englewood, Nokomis, and Osprey. We specialize in professional deep STEAM grout cleaning, tile cleaning, grout sealing, and restoration services.
Because of its pourous texture, over time grout will trap and accumilate dirt, grime, oils, and stains; making your grout dark and discolored, ruining the look of your tile floors. Using our commercial-grade steam cleaning machine, our tile and grout cleaning steam cleaning process will remove ALL the dirt, grime and oils trapped in your grout and tile floors, making it look new again! Be sure to check these before and after cleaning photos.

WHO WE ARE.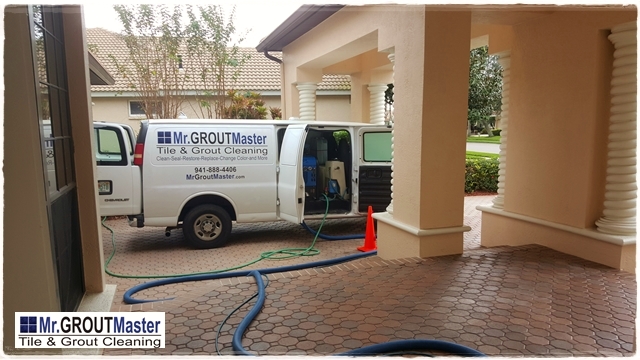 Mr. Grout Master is a family owned and operated company in Sarasota, FL area. Being in the Tile and Grout cleaning business for several years and with a first-hand professional tile installation background we have the knowledge, experience, and equipment needed to bring you the most exceptional tile and grout cleaning and restoration results! Be sure to check our customer reviews on google!
Here at Mr. Grout Master, we use odorless, the most safe and the highest quality grout cleaning, sealing, and restoration products in the industry today . We will work with you to our best abilities to make sure your 100% satisfied with your tiled floors cleaning results!
WHAT SETS US APART!
Mr. Grout Master strictly specializes in tile and grout cleaning, and sealing services; not as a "side" service like many companies offer. That means that all of our experience and skills come from cleaning strictly natural stone, tile, and grout every work day.
We guarantee as far as tile and grout cleaning, we bring the best cleaning results possible! Becuase of many different types of grouts out there, and each has been exposed to different environments and hosehold cleaning products; before we start setting up machine, we do several tests by hand to see what product and solution will bring the best cleaning results for your home.
This gives you a chance to see expected cleaning results right before we start setting up our steam cleaning machine!
Our Blog